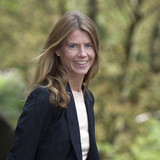 Rachel Pownall
Professor of Art & Finance
Rachel works at Maastricht University as a Professor of Art and Finance. She also holds a part-time position at TIAS School for Business and Society, holding the first Van Gogh Chair in Art Finance and Museum Management.

She is a leading scholar in Art Finance, and alternative investments, such as emotional assets. She works in the areas of behavioural finance, risk management, sustainability and asset pricing. Her work has been published in a number of international Journals, including the European Economic Review, Journal of Economic Behavior and Organization, Journal of International Money and Finance, Journal of Banking and Finance, Financial Analysts Journal, Journal of Empirical Finance, and the Journal of Portfolio Management.

Rachel is a METEOR fellow at Maastricht University and a CENTRE fellow at Tilburg University, where she also part of the Tilburg Sustainability Centre at Tilburg University. She has taught at Sotheby's Institute for Art and has consulted for many Art Advisory services; as of 2016 she has been commissioned to write the TEFAF Global Art Market Report.

In 1996, Rachel completed a First-class Honours Bachelor's degree in Economics and Econometrics at the University of Kent, in the UK. She completed a Masters in Finance and Econometrics in 1998, and then went on to complete her PhD on Risk Management in International Financial Markets at Erasmus University, Rotterdam in 2001.